Arabic CMMS | Equipment Maintenance Management Solution



Our Arabic CMMS software solution is used in the Middle East and Egypt. Fully customized translation ensures that your CMMS system displays an accurate translation. This software system contains all of the needed components to manage any equipment maintenance operation. Widely used in Iraq for maintenance management of Iraq's power stations. These critically important maintenance operations rely on MaintSmart to keep power flowing to the entire country.
In 2014 the MaintSmart team traveled to Amman, Jordan to train the Ministry of Electricity, Iraq. Forty electrical engineers learned how to implement the CMMS in their gas-powered electrical turbine stations. This program sponsored by the US Department of Energy was a huge success leading to extraordinary reliability of these new power stations and associated component equipment assets. One of the key selling features of the CMMS solution is the flexible analysis and reporting. Reliability analysis, overall equipment effectiveness and drag and drop OLAP (data cubes) guarantee that all data entered into the system is available for analysis and reporting. This Arabic CMMS rewards the user for entering data in the form of decision support analysis reporting.
With local support in Iraq and Cairo users of the Arabic CMMS software receive quick and comprehensible answers to their questions. The latest version of the software has an enhanced translator module that enable the user to translate many text items simultaneously. This really speeds up the translation process.
أشرطة الفيديو هذه تعلم عن برنامج كمس.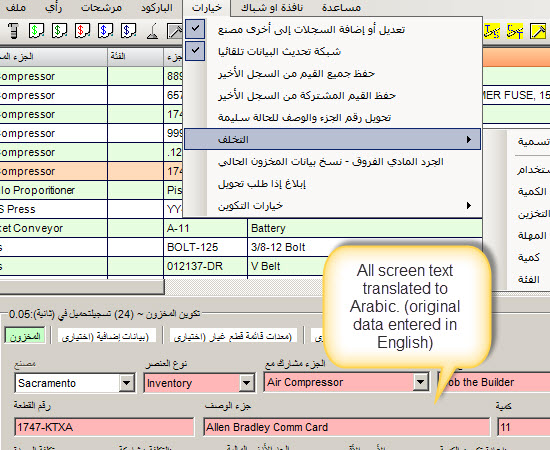 العربية برامج إدارة المخزون