CMMS Software Training

CMMS Software Training
One of the keys to a successful CMMS implementation is CMMS software training. There are several training options available as follows:
Free CMMS software training videos.
Free training documents.
Personalized online training with software running on our server.
Offsite personalized training.
Onsite personalized training.
MaintSmart trial version users (demo users) receive online training for free during the 30 day trial period. This limited time offer is available through May of 2017.
Free CMMS Software Training Videos
There are many free training videos available on many MaintSmart topics:
Work orders may be a simple or as comprehensive and needed. The two required fields are highlighted. Defaults settings speed work order creation. Additionally the new Simple Input View clears the screen of everything except a few essential fields leading. Consequently even the most inexperienced user quickly submit work orders or repair tickets (service requests).
Work order training courses vary from a 15 minute requester course on submitting repair tickets to a comprehensive six hour course. CMMS software training for the typical maintenance technician takes approximately 1-2 hours.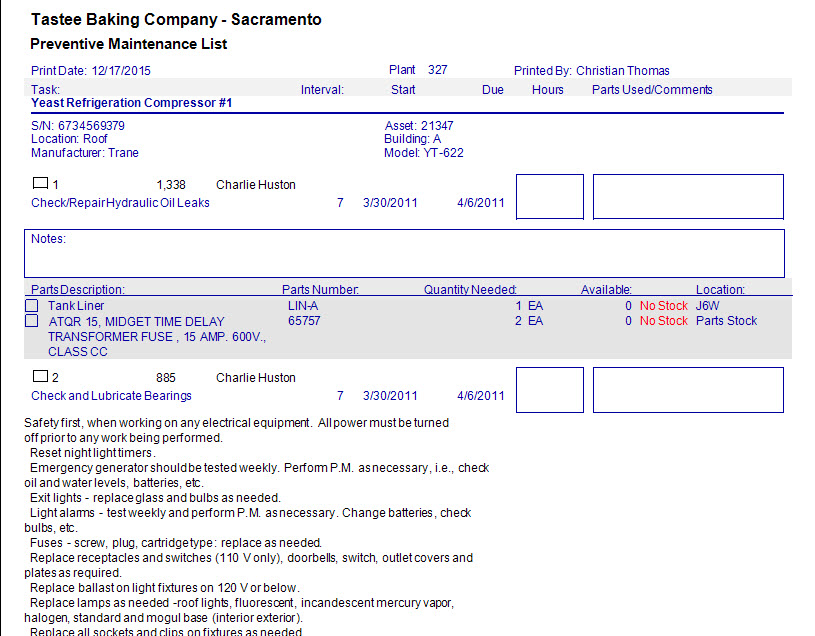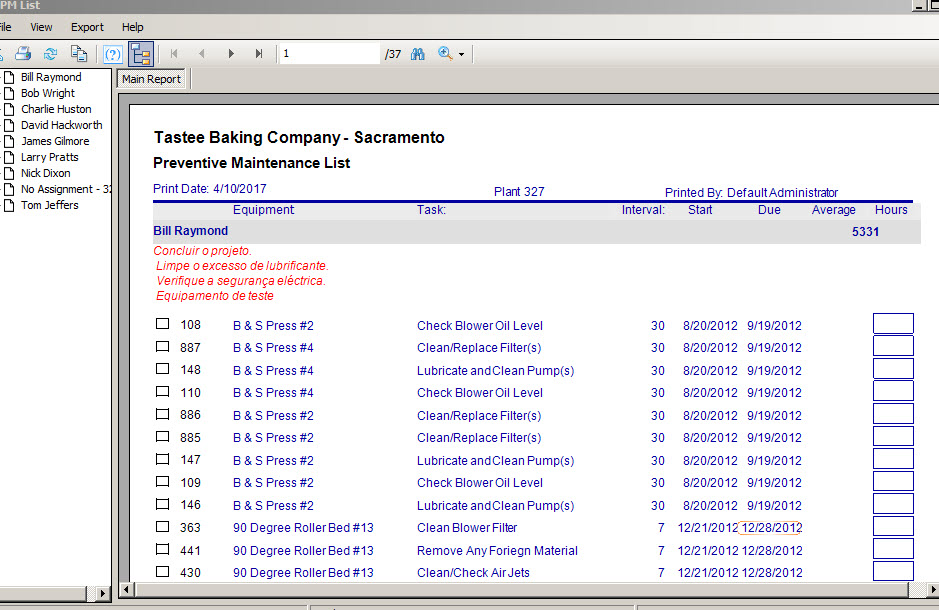 Preventative Maintenance Software Training
Preventative maintenance (PM) may be managed as a work order or separately. MaintSmart has a unique calendar-based preventative maintenance system that may be used for simple PMs. Some  examples might be:
Daily shift checklist automatically printed at shift start time.
Monthly PM tasks assigned to each technician and emailed at 8:00 AM on the second Monday of each month.
Weekly preventative maintenance tasks with parts lists.
Annual PMs for specific equipment with extensive detailed instructions included.
Any calendar-based time period.
Most organizations using MaintSmart use the work order module and the preventative maintenance module. Both are included with the basic system as are all the other modules.
The CMMS software training on inventory management covers the following topics:
Creating an inventory database.
Using spares and linking the usage to equipment and work order.
Returning unused parts to stock.
Physical inventory variance audits.
Cycle count audit.
Reporting and analysis.
Downtime Tracking Software Training
Downtime tracking software training covers then following topic:
Entering downtime data.
Converting downtime to a remedial work order.
How downtime is tracked.
Analysis and reporting of downtime.
Reliability analysis and MTBF reporting.
Overall equipment effectiveness (OEE).
User-defined downtime queries. Root cause analysis.
Typically downtime training is a 2-4 hour course. This training enables the maintenance manager to determine where the most costly equipment issues are occurring and why. With this information your equipment reliability quickly improves.
Purchase order software training is useful in the situation where your organization implements the requisition and purchasing module. Training topics are open to whatever the trainees need but a typical course includes the following topics:
Request for quote (RFQ)
Purchase requisition creation and modification (4 ways to do this).
Approval of purchase requisitions.
Purchase order creation (3 ways to do this).
Receiving purchase order line items, returning items, cancelling orders.
Closing purchase orders, duplicating purchase orders.
Invoice matching.
This software contains a comprehensive purchasing system. Adequate training is especially beneficial with this module.
Schedule CMMS Training
Online training classes are held weekly. These may be usually scheduled on very short notice. All training is customized to what you need. Our trainers can use your data and may set up your maintenance program for you during the training session.
Demo Users Train for Free!
Remember demo users (trial version) train for free. Learn what you need to immediately become very successful with MaintSmart before you purchase the system. We'll even use your organization's data to populate your own personalized CMMS database. License the demo verison and it converts to the full licensed version with your data already configured and ready to go. There is absolutely no obligation.
This is a limited time offer. Can you afford to miss this opportunity?