Inventory Management Software

What is inventory management software?

What is the best way to utilize inventory management software ?

How does inventory management software benefit my organization?

What is a Inventory Management Software?
Inventory management software is a computer application that is used to manage and control inventory levels. Conversely purchasing management software is used to manage the acquisition of this inventory. Additionally inventory management software manages spare parts usage. This CMMS has all three of the aforementioned components. Furthermore these three components may work together to provide a full-featured spare acquisition and disposition system. It should be noted however, that these components may also be used alone without implementing all three.
Generally speaking inventory stores are large. In some organizations there may be hundreds of thousands of different spares that must be tracked individually. Because of this a good inventory management program must have extremely fast and flexible search and filter capabilities. Additionally flexible reporting is important. Reports should include restocking lists, over or under stock, spares listed by user selected filters. Lastly the mark of a good system is one that provides open fields that the end-user can define as needed.
There are two basic ways of getting started with a new inventory management software system.
Import data from Excel or other database.
Input each inventory item manually.
Link parts to work order templates, work orders or preventative maintenance for automatic reduction of stock. As a result time is saved and consistency of use attained. Another component of inventory is cycle count auditing. This type of audit is set up trigger random item counts on a user-defined interval such as (for example): every week count 50 items. Gradually audit inventory, week by week, then have the entire inventory counted within a year. As such there is no need to perform a massive annual audit of all inventory.
The inventory screen displays spares in a simple grid format like Excel. In fact, all grids in the software export directly to Excel with two button-clicks. Search this data with a column search. Additionally filter this data by a grid column filter or create your own custom filters and save these filters as a menu item for use later. Probably the most powerful data display tool for inventory is the Online Analytical Processing (OLAP) tool. This tool is simple to use and works by simple drag and drop, building a view of the inventory in exactly the way you would like to see it.
How Does Inventory Management Software Benefit My Organization?
There is no requirement that MaintSmart CMMS users have to use the inventory and/or purchasing modules. Furthermore, each of the four main modules in the software stand alone and work perfectly without integrating with the others. However there are several benefits to implementing the inventory modules.
Accurate accounting or inventory prevents losses or excesses.
Timely restocking to avoid critical spares shortages.
Automatic spares usage for work order and PMs.
Ability to rapidly locate needed parts.
Reporting of acquired spares during specified time period.
Reports for spares used by: why used, who used and where used.
Spares costs are included in overall cost of equipment reporting giving the full accounting of cost to own equipment. This is useful in maintenance decisions and equipment acquisition decisions.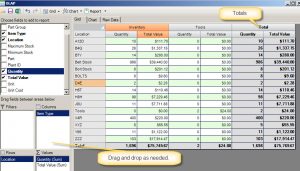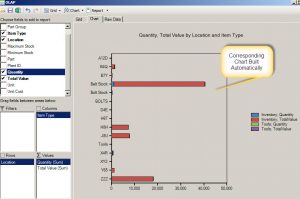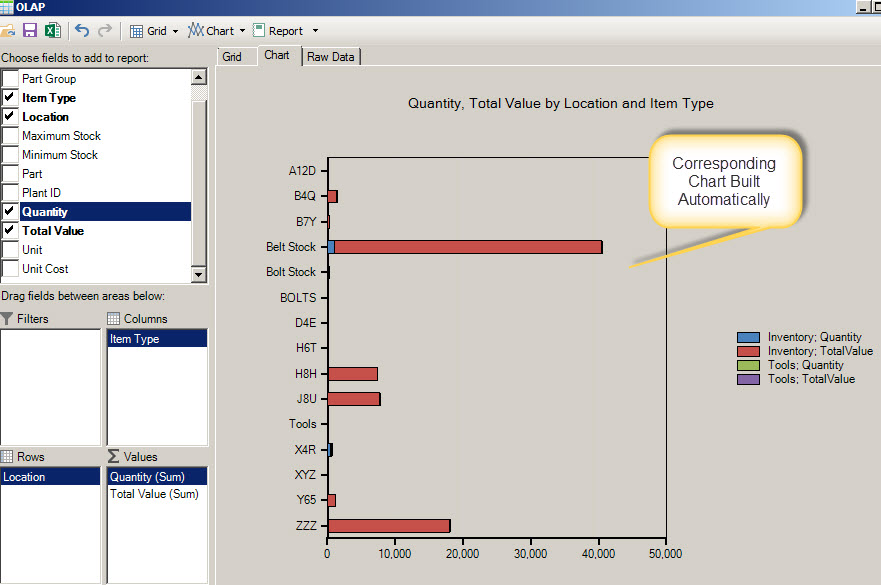 Inventory Management Software (4:19)
Spares Usage and Linking Spares to Preventative Maintenance (4:35)